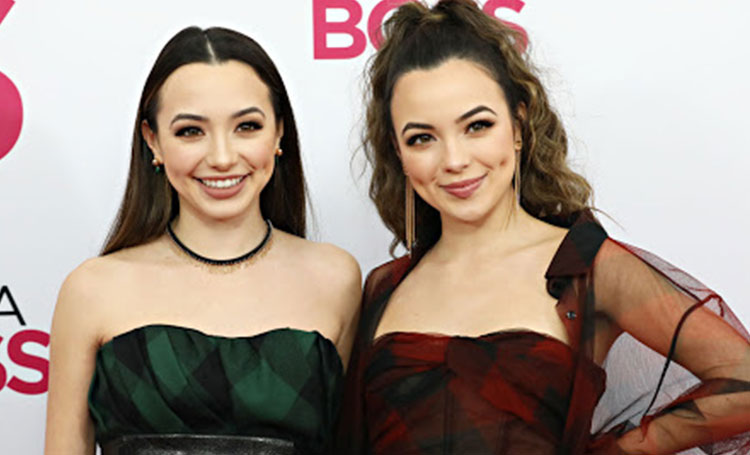 Quick Facts of Merrell Twins
Veronica and Vanessa are actresses, musicians, singers, and songwriters. Veronica and Vanessa are identical Twins who run one of the most famous YouTube Channel named Merrell Twins. The channel is active for the last decade and has more than 400 videos uploaded to date. The YouTube channel was first started as " What It's Like to Be a Twin" back in 2009. Initially, they uploaded a video and did not much focus on it as they had moved to Los Angeles to pursue their acting career. 
After some years, when they checked, it had about 2000 subscribers and more than 10k Views. As of 7th January 2020, The channel has more than 5.03 Million Subscribers and over 982,305,410 views. The twins post a video every Tuesday. The twin's sister has two more YouTube channel named as Merrell Twins Live and RoniAndNessa.
The twin sisters were born on 6th August 1996 in Kansas City, Missouri. Wendy Merrell and Paul Merrell raised both of them. Veronica is 45 min older than Vanessa. Both of them completed their high school from a nearby high school. 
Merrell Twins Career
The sisters went on to act for a very short time with Disney Channel in Los Angeles. After that, they solely focused on their YouTube channel. Along with making videos, Vanessa plays piano, bass guitar, and cello. On the other hand, Veronica plays piano, violin, and guitar.
The twins keep uploading videos on various contemporary topics, both comedy, and music, such as original comedy sketches, original music videos, popular song covers, original funny songs, and challenges. Veronica has been studying Screen Writing, and Vanessa is studying Television Production at a University in Los Angeles. Like the sisters, James Benrud, along with his wife, runs a YouTube channel named, mimbo.
Veronica and Vanessa Love life
The younger sister among the twins, Vanessa, had been dating fellow Youtuber, Aaron Van Womer, from 2015 to 2016. The two could be seen spending a lot of time together, but for personal differences, the couple split apart.
In the year 2019, She started dating Christian Seavey, who is an American Idol contestant and a singer. The two are dating each other for the last year, and there have been no rumors of splitting.
On the other hand, the elder sister is not found to be dating anyone. But in a recent video posted by them, she mentioned having a crush on a guy named Aaron. She is in a one-sided relation.
How rich are the Merrell Twins?
The twins share an estimated net worth of about $500,000. In a career of nearly a decade, the twins earn an average of about $100,000 annually from their YouTube Channel. Taylor Yeager, a young YouTuber, has a net worth of $100,000.
The Lovely sisters are found visiting different famous holiday sites around the world. In July 2018, Veronica and Vanessa launched a clothing line called TRUE IMG.
Merrell Twins Nominations and Awards 
Within a short YouTube career of about a decade, the twins have won a few awards and nominations. In the year 2016, the twins won their first Award for YouNower of the Year. The same year, they won Streamy Awards. 
Merrell Twins were nominated for a Teen Choice Award 2017 for Choice Female Web Star. Then they were nominated for two Teen Choice Awards 2018 for Choice YouTuber and Choice Female Web Star. In 2019, they were nominated for a Teen Choice Award 2019 for Choice YouTuber. Likewise, they were nominated for Favorite Female Social Star at the 2020 Kids' Choice Awards.
Visit favebites for interesting celebrity-related content!!!
Tags
Others