Having made headlines recently after his team Seattle Seahawks bottled a game that they'd almost bagged against San Francisco 49ers, losing 21-26, Pete Carroll has been under fire from fans and pundits alike on Twitter.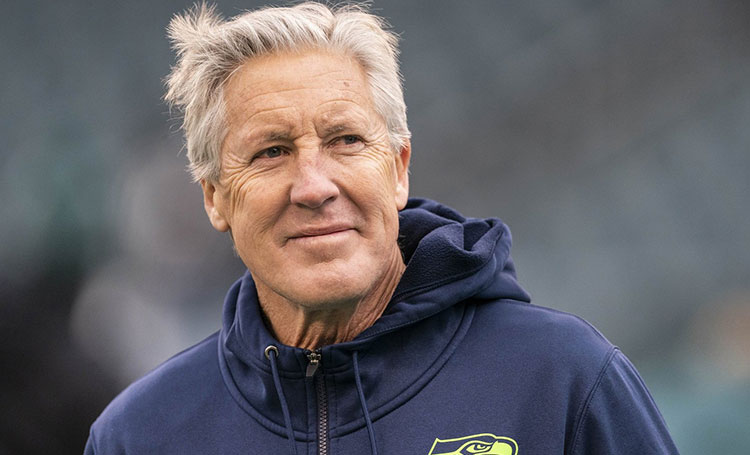 Quick Facts of Pete Carroll
| | |
| --- | --- |
| Full Name | Pete Carroll |
| Date of Birth | 15 September, 1951 |
| Ethnicity | White |
| Profession | NFL Coach |
| Nationality | American |
| Active Year | White |
| Horoscope | Virgo |
| Relationship History | Yes |
View
Having made headlines recently after his team Seattle Seahawks bottled a game that they'd almost bagged against San Francisco 49ers, losing 21-26, Pete Carroll has been under fire from fans and pundits alike on Twitter.
Age And Early Life Of Pete Carroll
It shouldn't come off as news that Pete was born on 15th September 1951, for everyone is born at some point. His parents were Jim and Rita Carroll, and his grandparents were what America quite ironically hates at the current time: Immigrants.
Attending Redwood High School in Larkspur, California, he was in love with sports from an early age, playing everything he could get his hands on.
But he struggled during his teenage years because he couldn't pile up the pounds required to play Football. He had to bring a specialized Doctor's Note, for he weighed only 110 pounds (50 kgs), which I believe is half the weight of the protective gear.
Despite being skinny as a rake, he raked up his love of sports after being cleared to go, playing in multiple positions as a Football player and playing Basketball and baseball. In his high school senior year, he earned the school's Athlete of the Year honors in 1969.
Career Of Pete Carroll
After high school, he attended junior college at College of Marin, becoming a Letterman after two years. Then he transferred to the University of Pacific, became a frat boy of the Sigma Alpha Epsilon fraternity and played football for two years.
After graduation, he tried out for Honolulu Hawaiians but didn't qualify due to his short stature and shoulder problems. To make ends meet, he found himself selling roofing materials, but he realized that he didn't wish to live in the memory of glory days doing jobs he didn't want for a life he didn't like.
He earned Secondary Teaching credentials and a master's degree in Physical Education. After completion, Carroll was hired by The University of Arkansas at a friend's urging, where he met many of his future colleagues and won the 1978 Orange Bowl.
After a season, Carroll moved to Iowa State University, where he worked as an assistant on the secondary under Earle Bruce. When Bruce moved to Ohio State University, he brought Carroll along as an assistant coach in charge of the secondary.
Furthermore, the squad made it to the 1980 Rose Bowl, where they lost to USC. Then he made his journeys across colleges in America as various versions of assistant coach and defensive coordinator before landing a job as a defensive coach for Buffalo Bills.
After 13 years of different positions on the coaching staff of various teams, Pete Carroll became the head coach of the New England Patriots in 1997, where he stayed for two years before leaving to coach in college football again.
Then after almost a decade at USC, he became the head coach of Seattle Seahawks in 2009 and has been there ever since. He led them to a Super Bowl victory in 2014.
Pete Carroll's Wife
Pete Carroll has been married to Glena Goranson since 1976. She has been with him through thick and thin, being alongside him since he worked as an assistant coach at the University of Pacific during his graduate years.
Further, it is reported that Glena even babysat for one of the members of Pete's football team when he was a defensive coordinator at the university.
They were both in their early twenties at the time. Throughout the years, they have parented three children, Brennan, Jamie, and Nate Carroll, and there seem to be no rumors of the couple falling apart whatsoever. Moreover, Pete's wife, Glena, played indoor volleyball at the University of the Pacific.
Their elder son, Brennan, is an assistant offensive line coach for the Seattle Seahawks. Like Glena, another celebrity wife, Linda Holliday, is happily married to her husband, Bill Belichick, head coach of the New England Patriots of the National Football League.
Pete Carroll Contract
After leaving USC, Carroll initially signed a five-year contract worth $35 million with the Seahawks in 2010.
One of the highest-paid coaches in the National Football League, Pete's average annual salary was $7 million. Buddy Stephens, an American football coach for the East Mississippi Community College, has a net worth of $15 million.
In December 2018, Carroll signed a new multi-year contract with the Seahawks, which will run through the 2021 season. As per the official website of the NFL, he will earn over $11 million per year, making him one of the highest-paid coaches in the league.
What is Pete Carroll's Net Worth?
The NFL head coach for the Seattle Seahawks has a net worth of $30 million as of 2019. His annual salary is $8 million, which he earns per his contractual terms. As per his new contract, Carroll will receive over $11 million a year. Likewise, his current deal expired following the 2019 season.
Watch Pete Carroll at a Press Conference!
There is no doubt that Pete and his wife, Glena, live a luxurious lifestyle. Since 2015, Pete has been working as the co-founder of a company called Compete to Create, which aims to accelerate the mindset of people.
He also released a book ten years ago, which sold quite well among the Seahawks fans and then football fans as a whole in four years after he won the Super Bowl.
Pete Carroll's Philanthropy
Apart from being a renowned and wealthy head coach, Pete is also heavily engaged in philanthropic activities. In 2011, he partnered with the YMCA's Alive and Free program and founded A Better Seattle. Its mission is to help youth to escape gang violence and crime.
Likewise, he co-founded the Performance Science Institute at USC's Marshall School of Business in 2017.
Take a look at NFL Highest Paid Coach, Carroll's Properties
In April 2015, Pete and his wife, Glena, sold their 3,860-square-foot traditional home located in Hunts Point, Washington, for $6.1 million. Not to mention, they purchased the house for $5.9 million in May 2015.
Likewise, he listed a house in the Manhattan Beach area for sale for about $2 million. The 1,200 square feet house includes a galley-style kitchen, a breakfast nook, a separate laundry room, and a one-car garage.
In September 2017, Pete sold his longtime home in Rolling Hills for $3.05 million. The 4,000 square feet house included a swimming pool and spa in the backyard. He purchased the house 17 years ago for $1.93 million. James Edward Carroll
Father Rita Carroll
Mother Dillon Brennan Carroll
Grand Son Jim Carroll
Brother
Glena Goranson
wife Wendy Pearl
ex-wife
Tags
Others