Duane Chapman has gone through many ups and downs in his life. The bounty hunter from Colorado first gained worldwide notice in 2003 after he captured Max Factor heir Andrew Luster. Chapman's fame heightened after he began appearing on A&E's reality TV series, Dog the Bounty Hunter.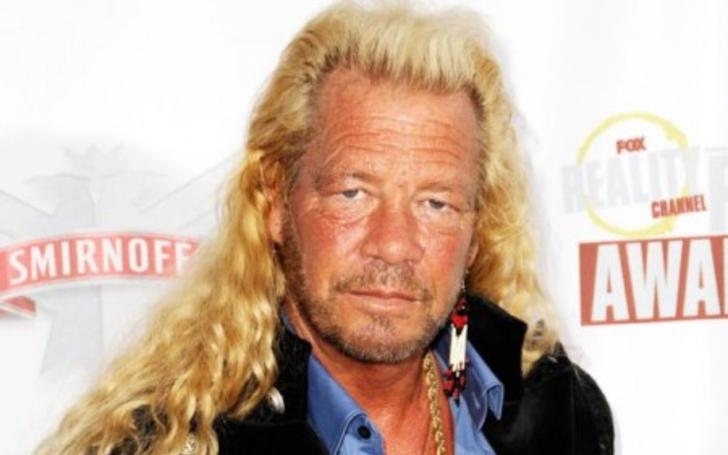 Quick Facts of Duane Lee Chapman
| | |
| --- | --- |
| Full Name | Duane Lee Chapman |
| Net Worth | 6000000 |
| Date of Birth | 02 February, 1953 |
| Marital Status | Engaged |
| Birthplace | Denver, Colorado, USA |
| Ethnicity | Mixed |
| Nationality | American |
| Height | 170 cm |
| Weight | 91 kg |
| Horoscope | Aquarius |
| Relationship History | Yes |
View
Duane Chapman has gone through many ups and downs in his life. The bounty hunter from Colorado first gained worldwide notice in 2003 after he captured Max Factor heir Andrew Luster. Chapman's fame heightened after he began appearing on A&E's reality TV series, Dog the Bounty Hunter.
Chapman had his fair share of controversies and troubles during his career. However, the most tragic moment was when he lost his fifth wife, Beth Chapman, to throat cancer.
Duane Chapman is Engaged with his New Girlfriend
Duane's current girlfriend, Francie Frane, is a 51-year-old rancher from Colorado. The bounty hunter confirmed his engagement with Frane on May 4, 2020, via social media. The two have moved in together and live in Duane's house in Colorado.
In an interview, Francie explained how her fiance asked her to be his wife in a romantic candlelit proposal. She said:
"I wasn't expecting it at all. I think I had gone to pick up some food and then when I came back he had all the lights turned down with just a few lights on and a bunch of candles lit."
She added: "So when I came in, I was like, 'Wow, this is awesome.' Then he said, 'Come in, sit down because I need to talk to you."So I put all the food in the kitchen, and I came in, and he said, 'I know that God brought you into my life, and I don't want to spend one moment of it without you."
The newly engaged couple is planning to have the biggest wedding ever. After the quarantine period, the two want all their families to be a part of their biggest moment.
How did they meet? It all started in early 2020. Duane had left a message to Frane's husband Bob wanting some help for his home yard.
However, he wasn't aware that Frane had lost her husband. They both had lost their respective spouses, and what started as a mutual friendship turned into a romantic love story.
Duane Chapman and Beth Chapman
The 67-year-old may have found a new source of joy, but his relationship with France (now his fiancee) received extensive criticism.
People started to comment on his love for his late wife, Beth Chapman. Duane's family has always defended him, saying that Beth would have loved to see him starting a new chapter.
Beth was the only woman to whom Duane was married for the longest time. On May 20, 2006, they married in Waikoloa Village, Hawaii, at a Hotel. Beth was previously married and had two children before becoming Duane's wife.
Duane and Beth had two children named Bonnie and Garry. Further, Chapman adopted Beth's daughter from her ex-husband. Also, he later helped her reconcile with her son, who was born during her teenage years.
Besides being a loving wife, Beth was a business partner of Chapman. They had appeared in CMT's reality series, Dog and Beth: On the Hunt.
Similarly, they operated a business whose name was Da'Kine Bail Bonds. Unfortunately, Beth died on June 26, 2019, due to throat cancer. The two spent 13 years as husband and wife.
Duane Chapman Previous Marriages and Relationships
Duane has been married five-time and had thirteen children. However, he has lost some of his kids, and a few aren't his biological kids.
His first wife was La Fonda Darnell, with whom he married in April 1972. They shared two children. La Fonda filed for divorce after Duane was convicted of first-degree murder. They divorced in October 1977.
Duane's second marriage was to Ann Tegnell, and the two married in August 1979. With Ann, Chapman shared three children.
Their first child died as an infant, and only two are alive to date. After his second divorce, Chapman married Lyssa Rae Brittain in 1982. They had three children but later divorced in November 1991.
Further, Chapman married for the fourth time in 1992 with Tawny Marie. Within two years of marriage, the two separated and made their divorce official in 2002.
Apart from his marriage, Chapman had a relationship with his ex-girlfriend, Debbie White. The two had a child born in July 1969. Sadly, Debbie committed suicide in 1978.
Chapman and his friend, Moon Angell's relationship was the talk of the town. People speculated that they were dating, but Duane denied the rumor saying they were just professional friends.
How many kids does Duane Chapman have?
Chapman has two sons from the first marriage, Duane II (b: 1973) and Leland (b:1976). Duane has two kids with his second wife, Wesley (b: 1980) and James (b: 1982). Sadly, they had lost their oldest child Zebadiah (b:1980), within a month.
From his third wife, Duane had three kids. Their oldest child, Barbara Katie Chapman (b: 1982), died in 2006. Their other two kids, Tucker (b: 1983) and Lyssa (b:1987), are alive. With his late fifth wife, Chapman had two kids, Bonnie (b:1998) and Garry (b:2001).
Duane adopted Beth's daughter, Cecily (b: 1993), and later, he helped her find her lost son, Dominic (b:1985). More importantly, with his late ex-girlfriend, Debbie, Daune welcomed his eldest child Christopher in 1969.
Therefore, Duane had 13 children, of which two are his stepchildren, two are no longer alive, and one is from his late girlfriend.
Dog The Bounty Hunter Reality Star, Duane Chapman's TV Career
On February 2, 1953, Duane was born in Denver, Colorado, the United States. His father, Wesley Duane Chapman, was a welder turned bail bondsman.
Likewise, his mother, Barbara Darlene Chapman, was an Assemblies of God minister. Duane grew up with his three siblings, Jolene, Michael, and Paula. Further, he has a mixed ancestry of German and English.
At 15, Chapman ran away from home, and in 1976, he was convicted of first-degree murder. After several years of probation, Chapman decided to change his life and began working as a bounty hunter.
In 2003 he became an international headline after capturing Andrew Luster. Luster is the heir of Max Factor cosmetics, who was convicted of sexual violence.
Talking about a television career, Chapman worked in his series Dog the Bounty Hunter from 2004-to 2012. Likewise, he worked in Dog and Beth: On the Hunt from 2013-to 2015. His series Dog's Most Wanted to be premiered in September 2019.
How much is Duane Chapman's Net Worth?
Duane Dog, the bounty hunter, has a net worth of $6 million as per celebrity net worth. He is a television personality, bounty hunter, and a former bail bondsman. Chapman has a business of bonds which his kids now handle.
Apart from his shows, Chapman has authored two books called, You Can Run, but You Can't Hide and Where Mercy Is Shown, Mercy Is Given. Barbrara Chapman
Mother Wesley Chapman
Father
Francie Frane
wife
Beth Chapman
Ex-wife
Lyssa Rae Brittain
Ex-Wife
Anne M Tengell
Ex-wife
La fonda Sue Honeycutt
Ex-wife
Lyssa Chapman
Daughter
Leland Chapman
Brother
Duane Lee Chapman, II
Brother
Bonnie Chapman
Daughtter Barbara Katie Chapman
Daughter Garry Chapman
Son Dominic Davis
Son Tucker Dee Chapman
Son Christopher Michael Hecht
Son Nicholas Chapman
Son James Robert Chapman
Son Wesley Chapman
Son Mike Chapman
Brother Paula Chapman
Brother Jolene Chapman
Brother
Tags
Others