Entertainment
Is The Bachelor In Paradise (season 1) cast Marcus Grodd Married? Who Is His Wife?
If you are a celebrity that means your romantic life will also get the spotlight. There are many celebrity artists whose love lives always becomes trending topics and headlines. Likewise, another reality star Marcus Grodd, who is known as the original cast member of Bachelor In Paradise is gathering mass media attention for his romantic life.
Similarly, the Canadian actor Marcus rose to fame after participating in the ABC reality dating show The Bachelorette (10th season) and Bachelor In Paradise (season 1). Marcus got a huge fan base because of his personality in the show. Besides being a reality star, Grodd is the Chief Operating Officer (COO) at Propelle + Konnect.
The young businessman Marcus was born on July 2, 1988, in Medicine Hat, Alberta, Canada. He is the son of Kiaus Grodd (father) and Halina Grodd (mother). Marcus grew along with his two siblings, Cathy Grodd and Conard Grodd. The BIP actor studied at High Land High School and for higher study, he attended Southern Methodist University.
So, who has Marcus tied the knot with? To erase your curiosity, here in this article, we have managed to write detailed information regarding his past and present love affairs. Keep on reading to know about Grodd's relationship and married life.
It Was A Love At First Sight For Marcus Grodd!
Do you believe in love at first sight? Marcus says he fell in love with her present-wife Ally Lutar on his first meeting with her. Moreover, his love, at first sight, hit a jackpot and now the couple shares a happy relationship. Marcus and Ally got to know each other through mutual friends. The couple's first meeting was in 2016.
Further, Marcus was with his friends when he first meet Ally at a barbecue place in Newport Beach, California. In an interview with People, Marcus said, "The minute I met her I knew this was how you feel when you meet your wife for the first time. Ally is gorgeous and strong — I was completely drawn to her confidence. Our first date was the following day at Javier's in Newport Beach."
Read the relationship status of another Bachelor In Paradise (season 2) cast Lauren Iaconetti.
Additionally, Marcus and Ally are a travel couple. They love to go on vacation and on a trip together in their free time. Marcus and Ally's Instagram profile is filled with happy moments.
Likewise, as revealed by the couple themselves before their wedding, they decide to elope. The adventurous couple eloped six months before and had an intimate wedding with close ones.
To add, on her Instagram profile Ally revealed," Marcus & I eloped in California in July of 2017, we wanted an intimate ceremony with only our closest friends. We planned a beautiful wedding ceremony six months later with our dearest & dear to celebrate our vows."
Lutar added, "It was the best decision we ever made. I felt no pressure, it was planned purely out of love for our friends, and I would do it the exact same way if we had to do it over."
Marcus Grodd's Married Life With His Wife, Ally Lutar!
The 6-foot-1-inch (188 cm) tall Marcus now happily shares his marital relationship with the businesswoman Ally. Lutar is the owner and operator of Propelle + Konnect. Marcus and Ally have been together for many years. They share a beautiful chemistry which was the reason for their long-lasting marriage.
Marcus and Ally exchange their wedding vows to start their new chapter of life together excitedly. Grodd and Lutar walked down on aisle on January 6, 2018, in Vancouver, Canada. They look stunning in their wedding dress. Marcus wore a black suit and bow tie, and Ally wore a gorgeous fitted plunging neckline gown designed by Ines Di Santo.
Also, read about The Bachelorette (season 16th) cast Riley Christian.
Moreover, the couple tied the knot carrying a bright smile on their face. They held their marriage privately with family members, relatives, and closest friends.
Similarly, isn't it cool to find your soulmate in your loved one? Marcus is a lucky guy who found his true love. Mr. and Mrs. Grodd have been together for more than five years their marriage is still going strong and unbreakable. Their marriage life is going smoothly with no hindrance between them.
Likewise, recently on their anniversary, Marcus posted a beautiful picture of their wedding with a sweet message in the caption saying, "5 years ago today we celebrated our love with our closest friends. Happy Anniversary @alleyinthecity."
Marcus Grodd And Lacy Faddoul's Failed Relationship!
Marcus was on the set of The Bachelorette to find his soulmate. But, in the competition-based series, Grodd placed in 4th position. Later, Marcus made his participated in the first season of The Bachelor in Paradise (BIP), where he met fellow contestant Lacy Faddoul of California.
Read about The Bachelor (season 21)'s runner-up Raven Gates' current relationship status.
Faddoul and Grodd's first meet was in the summer of 2014 on Bachelor in Paradise. Because of their similarities, they grew closer and started dating. Their beautiful chemistry was loved by the audience throughout the show. At the 'Rose Ceremony' Marcus proposed to Lacy and she also accepted his proposal. 1st season ends on September 8, 2014, with Marcus and Lacy left as an engaged pair.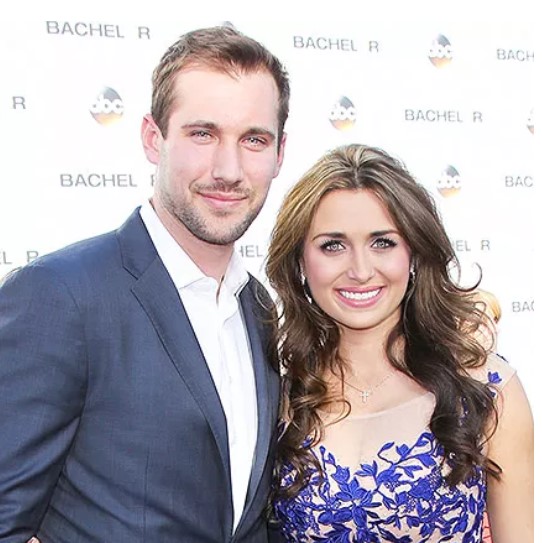 Later, in August 2015, BIP's second season aired. In the first week, the fans witnessed the marriage ceremony of Faddoul and Grodd. However, in later days their bond did not remain the same. They eventually ended their marital relationship in 2016.
During an interview with People, Marcus talked about his breaking up with Lacy. Marcus told, "When I came back, it was just a very different situation with her. It was kind of like postponing our plans. That was the drop of our relationship."
Keep up with Favebites to update yourself with more interesting content about your favorite Hollywood celebrity.
Tags
Others