The 61-year-old, Rick Santorum is an American politician as well as an attorney and political commentator. He is married to his wife,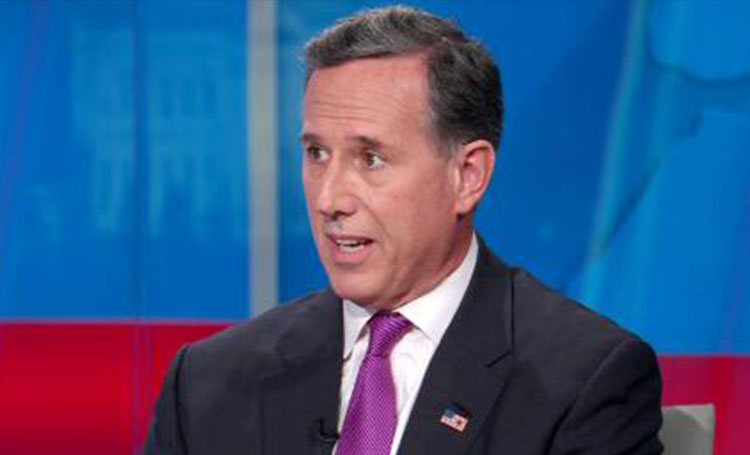 Quick Facts of Richard John Santorum
| | |
| --- | --- |
| Full Name | Richard John Santorum |
| Net Worth | $3 MILLION |
| Date of Birth | 10 May, 1958 |
| Marital Status | Married |
| Birthplace | Winchester |
| Ethnicity | White |
| Profession | Politician |
| Nationality | American |
| Education | Pennsylvania State University, University Park(BA), University of Pittsburgh(MBA), Dickinson School of Law(JD) |
| Children | Isabella Santorum, Elizabeth Santorum, Gabriel Santorum, Daniel Santorum, Patrick Santorum, |
| Horoscope | Taurus |
| Relationship History | Yes |
View
Republican Party's member Rick Santorum is an American politician, attorney as well as political commentator. He was the senator of the United States from 1995 to 2007. Like most of the politicians around the world, Richard is also a celebrity figure. Being a third-ranking Republican of the U.S. Senate, Richard's lifestyle is a matter of curiosity even to the non-Americans.
Devout Roman Catholic Richard was born as Richard John Santorum in Winchester, Virginia, on May 10, 1958. His father, Aldo Santorum, worked as a clinical psychologist and was an immigrant from Riva, Italy. Similarly, Rick's mother Catherine Dughi Santorum, an administrative nurse, also had Italian and Irish ancestry.
Born in Winchester, Santorum grew up in Berkeley County of West Virginia. He spent most of his childhood in the Veterans Administration's apartment and completed elementary education at Butler Catholic High School. Rick completed his Bachelor in Political Science and Government from Penn State University. Likewise, he earned his Masters from the University of Pittsburgh. Also, Rick holds a Juris Doctor degree from the Pennstate Dickinson Law
Rick's nearly thirty years of Marriage with Wife Karen
Rick Santorum is married to his longtime wife, Karen Garver since 1990. The husband-wife duo are together for nearly three So, how did the couple first meet? Rick and his future wife first met while Karen came as an intern at Rick's firm, Kirkpatrick & Lockhart.
Karen was already a neonatal nurse before she met Rick and the two began a romantic affair. Garver later decided to pursue law and joined the University of Pittsburgh. She was still at the university when she met Rick. Also, find Canadian Politician Pierre Poilievre Married Life.
This year in 2019, Rick and Karen celebrated their 29th marriage anniversary. The 61-year-old Rick has more than 287,000 followers on Twitter but is not so keen on sharing his love life with Karen. Like her husband, Karen is also not flashy about her married life, but being the wife of a famous politician, she too gathers public and media attention.
The Santorum couple are Blessed with Seven Kids
As Rick and Karen strictly oppose abortion, the couple never chose abortion as an option. He stated;
I do not believe life begins at conception. I know life begins at conception. This is not a matter of debate. It's not a matter of faith … Every child at the moment of conception is both living—that embryo is metabolizing—and it is … genetically completely human.
Likewise, in the 2016 presidential debate, he said;
Twice in my life, we were counseled to have an abortion—once with our son Gabriel and one with our little girl, Bella … Neither time did Karen and I even think about an abortion, because we know life begins at conception.
Rick and Karen are parents of seven children, among which an eight child named Gabriel Santorum died after 20 hours of his birth in 1996. Gabriel was a premature baby born after just 20 weeks of pregnancy. On the same night, Rick and Karen slept in a hospital bed with Gabriel's body in between.
Then the following day, they took Gabriel's body to show their older kids. Their daughter Elizabeth Santorum remembers being glad when she saw Gabriel's body. She was just five years old at the death of Gabriel. Besides, Elizabeth said that Gabriel holds a place in her heart. Currently, the couple has three daughters and four sons.
Millionaire Rick owns 7 Properties
In April 2015, Rick's net worth was estimated to be around $3 million. He holds five rental properties near Penn State University and two private homes located in Great Falls and Penn Hills. He purchased Penn Hills property with a three-bedroom house in 1997. After that, he bought a house worth $640,000 in Leesburg, Virginia, in 2001. Eventually, Rick sold it for $850,000 in 2007 and spent $2 million in a house in Great Falls, Virginia.
Rick had a staggering income of $1.3 million in 2010 and 2011. He earned $332,000 as an industry interest group consultant. Similarly, he had a salary grossing $395,414 while he worked for Universal Health Services and received $217,385 from Ethics and Public Policy Center. More to that, as The Philadelphia Inquirer's 2010 columnist, Rick had an annual income of $23,000.
Rick and his family live a lavish life, like many rich celebrities. He spends more than $50,000 on his daughter Isabella Santorum's medical expenses. Moreover, Rick and his wife even paid $25,000 to fly Isabella from Virginia hospital to Philadelphia's children's hospital. Also, find Alison Lewandowski's net worth.
Rick is the author of Four Books
Fantasy baseball player Rick has written four books to this date. He has penned It Takes a Family: Conservatism and the Common Good (2005), American Patriots: Answering the Call to Freedom (2012), Blue Collar Conservatives: Recommitting to an America That Works (2014), and Bella's Gift: How One Little Girl Transformed Our Family and Inspired a Nation (2015).
Rick's book, Bella's Gift: How One Little Girl Transformed Our Family and Inspired a Nation is about his daughter Isabella who has a Trisomy 18. Also known as Edwards syndrome, Trisomy 18 is a rare genetic disorder that results in heart defects, small jaws, and head, and clenched fists.
Rick has Always Followed Social Conservative Policies
Presidential campaigner Rick proudly refers to himself as a culture warrior and true Christian Conservative. He is strictly against same-sex marriage, polygamy, and sodomy. For his opposition, Rick was criticized by Dan Savage, who is a gay rights activist.
Most of his books also convey the message of conservative motifs. More to that, in an online pledge, Rick signed not to respect any laws and decisions of the United States Supreme Court regarding the legalization of same-sex marriage. Additionally, he has stated that he would never attend a same-sex wedding.
Philanthropy
Santorum has aided HIV/AIDS programs that help young children and orphans from developing countries. The program also aims to fight genocide in Sudan and provides third-world debt relief. Similarly, people living with HIV/AIDS are provided housing from Rick's aid.
Take a look at Rick's disabled daughter Isabella:
Rick has assisted homeownership tax credits, children's, and low-income families' saving accounts. He has also funded autism research, tuberculosis research, Social Services Block Grants, Healthy Start, Children's Aid Society, and Community health centers.
Favebites has more celebrity information for you!!
Karen Garver Santorum
Wife Elizabeth Santorum
Daughter Isabella Santorum
Daughter Gabriel Santorum
Son Patrick Santorum
Son Peter Santorum
Son John Santorum
Son
Tags
Others